The following items have been posted recently on the club's Facebook page (https://www.facebook.com/rotaryclubofmordialloc/)
Trachoma Care Kits – If you have a sewing machine then you can help – Posted 15 November 2020
Mordialloc Rotary is making 231 toiletry kits for the students of the P-12 Lajamanu School located 965km NW of Alice Springs. These kits will enable the students to care for their eyes and faces and will reduce the risk of Trachoma. Trachoma is a debilitating eye disease that is entirely preventable by good hygiene. We need your help to sew up bags and add draw strings, like the one shown in the photo. We will provide the cut fabric and strings, all you need to do is the sewing and threading of the draw strings. If you can help please email Di at [email protected]
Eliminating Trachoma is a Rotary Australia project and forms part of the celebration of 100 years of Rotary in Australia. We want Trachoma to be eliminated as a cause of blindness in indigenous communities. Your help is appreciated.
Mordialloc Rotary members show that they care-Posted 02-08-2020
During the Covid crisis many people don't have enough money to buy essentials before longer term care packages kick in. Mordialloc Rotary has borrowed an idea from Glen Waverley Rotary and are assembling packs from goods donated by club members and friends. These packs contain non-perishable goods including foodstuffs for a few days and personal hygiene items. A snack or a small "luxury" item is included to give the recipient a small hit of joy to lighten up their day
The photos show President Paul Taranto with organisers David and Helen and some of the packs assembled to date. We can see the need for these packs going on for some time and ask anyone who can donate items to contact us via our Facebook page contacts.
Together we can come through this crisis by working together and supporting our community
Move over bears and rainbows, Spoonville has arrived – Posted 01-08-20
During the first Covid lockdown Emma and Lauren looked for rainbows and bears during their walks around Parkdale. With a second lockdown looming they saw a photo sent by their aunty of spoon people. They decided to set up their own Spoonville to inject a bit of fun into our lives. Since then the Spoon community has grown from two spoons to eleven spoons today. Many spoons are wearing masks and all spoons are socially distancing.
A Mordialloc rotary member saw their spoon community and decided to add a Rotary spoon to their collection. President Paul Taranto is seen here with Spoonville founders Emma and Lauren. The Rotary spoon features a Rotarian with the classic Bunnings sausage and tongs. Even though we cannot enjoy a Rotary Bunnings sausage we can all enjoy Emma and Laurens fun initiative.
We challenge other clubs to add to the collection on Como Parade West near the Warrigal Road roundabout. Add your spoon, branded with your club name, and post a photo on the Rotary Mordialloc Facebook page. Let's show Emma and Lauren that they can promote positive feelings and have fun!
Note: The Rotary Club of Mordialloc has written permission from the mother of Emma and Lauren to publish these photos
Update: Famous Bears endorse Spoonville as as Population doubles – Posted 6/8/2020
The Mordialloc Rotary sausage sizzling spoon was working overtime in Spoonville this week as the population doubled from 11 to 22 residents. The three bears have moved in adding their celebrity status of this Covid inspired initiative. Founders Lauren and Emma could not envisage such a big change in only four days. These young girls are doing their bit to lift our spirits and to put some fun back into our days. Support them by adding to the spoon communitythe spoon community. As father bear was quoted as saying, "Spoonville is just right!"
Iconic Neddy covers up for COVID -Posted 03/08/2020
On the Mordialloc foreshore adjoining the aptly named Horse Paddock car park stands a reminder of Kingston's horse racing past. This stoic chestnut has decided to wear a mask to help suppress the Covid virus. This equine wonder stands rigid in his commitment to a Covid free state. He is undeterred by several near death experiences at the hands of Neanderthals with angle grinders seeking scrap metal. He looks forward to the return of the pony club and racing horses to Mordialloc beach once we lick the virus.
Asked by your intrepid reporter if he would like to add any more comments he simply said "nay". Support our stoic stallion, cover up, stay home and let's stop the spread of Covid19. Note that the photo on the left was taken before the COVID lockdown.
Mordialloc Rotary President has a foot in two camps – Posted 24 July 2020
Paul Taranto, the new President of the Rotary Club of Mordialloc, has lived in Parkdale since 1988 but he has a strong allegiance to Western Sydney. His grandson, Tim Taranto, plays for Greater Western Sydney Giants (GWS) and was named their best and fairest player in 2019. https://www.gwsgiants.com.au/video/389689/tim-taranto-our-rising-star?
Tim started his football journey with Mordialloc Braeside Football club and Paul rates their hot chips as "The best chips ever".
Paul works as a Chemical Engineer with polyethylene manufacturer Qenos in Altona. He has worked on offshore oil and gas facilities in Bass Strait, Houston, China, Venezuela, France, Canada and the UK. His passion for science has led him to chair the Rotary District 9810 Science Program Committee for 20 years. These programs introduce students to science and show them career paths that they would otherwise not consider. The Conoco Phillips Science Experience exposes year 10 students to a wide range of sciences while the National Youth Science Forum is a two week live in experience for year 11 students.
Paul's daughter Jessica is a specialist nurse at the Royal Children's Hospital and has completed two sessions with Mercy Ships . https://mercyships.org.au/ His son Dominic is an artist and works for the Australian tech company Redbubble. https://www.redbubble.com/ He is very active in championing "diversity" and has been commissioned by schools and other organizations to paint murals on this theme.
Paul's wife Dianne is a retired primary school teacher. She was deputy principal at St Mary's Dandenong and St Patrick's Mentone and has now joined Paul in Rotary. She also has a strong interest in assisting youth achieve their potential. Paul brings a wealth of experience to the Mordialloc Rotary Club. With his long term involvement in the area we can look forward to another great year at the Mordialloc Rotary Club.
Alan Opie, Bee Keeper – Posted 14/7/2020
What does beekeeping have to do with supporting disabled children in developing countries? Ask Alan Opie, the newest member of the Rotary Club of Mordialloc. Alan is an amateur beekeeper and he has raised $800 from honey sales to purchase wheelchairs through Wheel Chairs for Kids in WA. Wheel chairs will be sent to a developing country where they will be fitted to the needs of individual children. https://wheelchairsforkids.org/ Wheel Chairs for kids has been supported by the Rotary Club of Mordialloc for 10 years with over 50 wheel chairs being purchased in that time. Alan has been living in Mordialloc for 57 years and is "giving back" to his community through his hobby. You too can contribute to your community and the needs of disabled children around the world. Contact the club and join us in a Zoom meeting until we can safely meet face to face again
Supporting Local Business – Posted 14/7/2020
During the Covid 19 lockdown in Melbourne it is very important that we support local business. In Mentone today the sign, below, said it all. Support your local business to keep the money in your community. We ask you all to nominate the local businesses that means something to you. It could be the local coffee shop, green grocer or restaurant. Give them a plug and show them that you care. As Rotarians we are pro business and many of us have been in business. To get the ball rolling we had coffee and great savoury muffins from "Truly Scrumptious" at Mentone today – http://www.trulyscrumptious.com.au/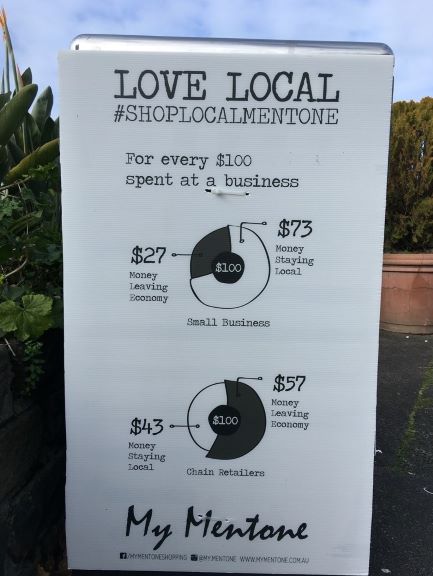 GUITAR SALE – Posted 25 August
We are finalising the arrangements for the sale of over 50 acoustic and electric guitars.
The list will be sent to parties that have REGISTERED AT OUR EMAIL ADDRESS [email protected] ONLY.
If you have not done so already please register your interest NOW. We will sell the guitars in batches starting with an Amena Strat, 4 Gibsons, 2 Gretch Bigsby, an Ibanez , a Lignatone Archtop and a Schector Hellrazor. Also on offer will be a Marshall JCM 800 amp Model 160A.
NO TIRE KICKERS!!!! GENUINE BUYERS ONLY
All proceeds are going to Rotary community projects and to a memorial fund to remember a loved son lost to cancer.
REGISTER NOW OR REGRET IT FOREVER.
LOWLIFE FORCE RELOCATION OF SPOONVILLE – Posted 26 August
Lauren and Emma, the founders of Spoonville, have been shocked and horrified by the actions of a few thoughtless individuals who have removed many of the residents of their spoon city. Over the past two nights over 100 of the 200 residents have mysteriously disappeared without a trace. Consequently they have decided to move the remaining residents into the safety of their home.
Despite the reprehensible actions of these Neanderthals we need to thank Lauren and Emma for taking such positive steps to brighten our days during the gruelling Covid lockdown.
If you pass their home can you write a note of thanks and drop it into their letter box. In this way they will understand that most people are good and that their actions have been appreciated.
LAUREN AND EMMA THE MEMBERS OF THE ROTARY CLUB OF MORDIALLOC SALUTE YOU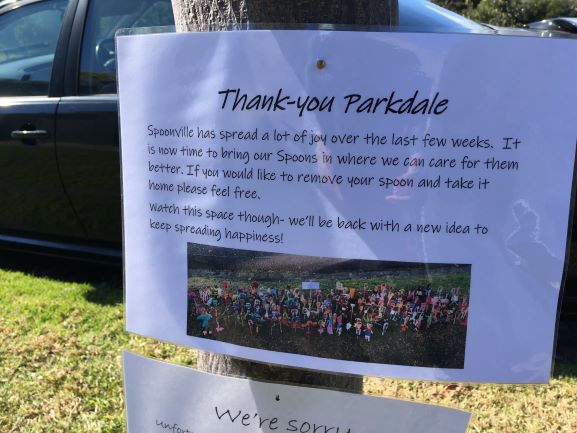 COVID DIVIDEND INVESTED IN A CENTURY OF PERSONAL CARE – Posted 16 September
A positive outcome from the Covid restrictions on face to face meetings has been the purchase of 100 personal hygiene kits to aid in the elimination of Trachoma. The kits (pictured) will be donated to members of indigenous communities to help improve face cleanliness. Clean Faces=Strong Eyes and NO Trachoma. If we kept every child's face clean, trachoma would not be a problem.
This initiative assists the END TRACHOMA 2020 push which will celebrate 100 years of Rotary in Australia. A win/win situation.